Testimonials
The fact that it was comfortable to use made for less stops for adjustments.

TRANSPORT® Commercial Cordless Backpack Vacuum SC580A

*Reviewer received a free product in exchange for an honest review.

Commercial Cleaning User
Easy to use, makes cleaning the floors a snap. Instead of vacuuming and mopping I do it in one step.

HydroClean® Commercial Hard Floor Washer SC930A

Jay
I recently purchased this cordless vacuum for our building of 48 units with long hallways front lobby it is one of the best vacuums I've ever encountered it runs for 40 mins easy to clean light weight has lights to see the debris does an amazing job I give this cordless vacuum a 10 star rating.

TRACER® Commercial Cordless Vacuum SC7100A

Penny Garito
Good suction, batteries lasted longer, very quiet. Vacuuming around cubicles with clients working around, they made very positive comments.

TRANSPORT® Commercial Cordless Backpack Vacuum SC580A

*Reviewer received a free product in exchange for an honest review.

Commercial Cleaning User
I have been using this machine at one of my businesses which is a preschool. It works wonders on their hard floors cleaning up paint, dried on food and juice easily without me having to manually scrub the floors. I also like the self cleaning feature. I plan to purchase this machine again to use at my other businesses.

HydroClean® Commercial Hard Floor Washer SC930A

Erin
Very powerful for such a lightweight machine, picking up equally well on carpet and hard surfaces. Very easy to clean and the battery lasts a good while. I've vacuumed every square inch of a 3500 sq ft carpeted floor and still had charge left over. My team chooses to use these first and do not like having to go back to a corded machine when our units are in use, so we keep extra batteries charged and an extra machine on hand so everyone stays happy!

TRACER® Commercial Cordless Vacuum SC7100A

Dan Keefer
Attachments are good quality. Size of the machine is more compact compared to other competitors larger bulky units.

TRANSPORT® Commercial Cordless Backpack Vacuum SC580A

*Reviewer received a free product in exchange for an honest review.

Higher Education Cleaning User
I manage a hotel and this does the job for our 2 story building. It is perfect for public areas and hallways. The staff is so happy they don't have to keep moving the plug in down the hallway like they had to do with a regular vacuum. I will probably be ordering another one.

TRACER® Commercial Cordless Vacuum SC7100A

Rebecca Mesenbrink
I have a large kitchen floor on which I've used several different wash methods over the years. It is not a chore I look forward to as it takes a lot of time and I can't seem to get it as clean as I want/need it to be. I've only used it once, but the Hydroclean SC930C really worked well - scrubbing and vacuuming up all the dirt that can hide in tiled flooring. The used solution tank was gross, so I know it was really cleaning my floor! The machine itself is very easy to assemble and use. And it made quick work of cleaning my floor! Hopefully, it keeps cleaning this well for many years to come!

HydroClean® Commercial Hard Floor Washer SC930A

Alison Baillie
Revolutionizing Commercial Cleaning: The Sanitaire® TRANSPORT® Cordless Backpack Vacuum
In the dynamic world of commercial cleaning, specifically Building Service Contractors (BSCs) servicing large office buildings, large format educational institutions, and hospitality segments, all face unique challenges...
Learn More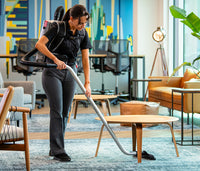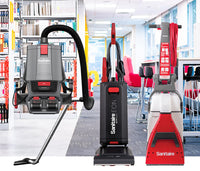 Enhancing Education Through Cleanliness
Studies have shown that cleanliness plays a pivotal role in creating a healthy and conducive learning environment in schools. Sanitaire®understands the significance of maintaining cleanliness in schools to promote optimal learning experiences...
Learn More
Save BIG on Electrostatic Sprayers While Supplies Last!
VIEW ALL
According to a 2014 survey by the National Center for Education Statistics, nearly one-half of the nation's schools had poor indoor air quality that contributed to high levels of absenteeism associated with asthma and other health problems. However, rigorous cleaning using moder...
Read More
Change it up.
See how easy it is to change the brushroll and belt on your Sanitaire® SC600 or SC800 Series upright.
Watch Now